---
The company held the 2016 annual review and commendation meeting
---
---
On January 21, the company held the 2016 annual review and commendation meeting to commend the advanced units and individuals who have made important contributions in the production and operation in the past year. Chairman Li Dongping made an important report. There were 293 company leaders, advanced collective representatives, model workers, advanced individuals, employee representatives and KM experts attending the commendation conference.
In the majestic national anthem, opened the prelude to the conference. The conference was presided over by Jin Jin Yao, chairman of the union and chief engineer of the group. Company general manager Yao Hongjian read out the commendation decision and the list. Then, in the happy music, the leaders of the company have been awarded certificates and bonuses by the advanced collective, the advanced team and the model workers, the pace-setter, the advanced individual, the young shock worker in 2016.
Finally, dong-ping li, chairman of the summary commendation meeting, comprehensive analysis of the current international and domestic situation, requirements under the new form, New Year all company staff to grasp and KM strategic opportunities of fully integrated learning KM rigorous management mode, continuously adjust and optimize the structure of products, continuous improvement, improve product quality, enhance corporate profitability, Build the core competitiveness of the main business. And on the innovation of marketing mode, optimize customer structure, refine marketing management, scientific development of marketing strategy and so on made an important speech.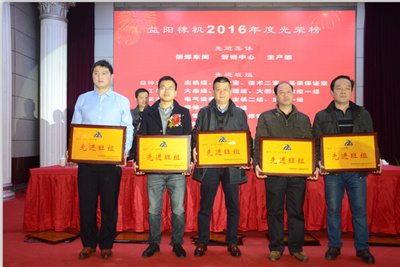 ---